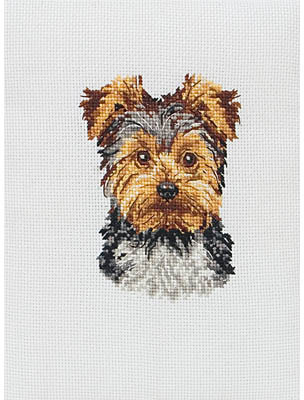 What you are bidding on is a
pledge
to hand stitch a yorkie portrait similar to the picture above in cross stitch. This is an opportunity to commission a unique piece of handcrafted art.
This is what Penny tells me about it:
"This is the picture I'm offering to do (will take about a month to complete) and it will have a real dog tag (silver disc) with name of choice. It will also be framed (my framers are doing me a favour

  . I can put a new tag on or use an old name tag that a `special` dog has worn. Will also stitch a collar of your colour choice. So it will be extra personal to you. When I stitched mine, I put a lock of hair at the back before it was framed. Happy to do the same with this."
Please consider the time, skill and materials involved. This would make a perfect 'forever' keepsake.
Starting bid of £50.00 please