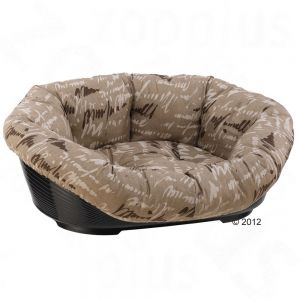 Ferplast Sofa Dog Basket with Cover - Beige
A hygienic, easy-to-clean dog basket. With soft cotton cover, a plastic base with a lowered entry and ventilation holes, your dog will love to lounge around in this basket.
The cosy padded cover is made from cotton and attached to the basket with a drawstring at the back so that it does not slip, is easy to remove and machine washable up to 30°.
The front of the basket is lower to make it easy for your pet to climb in and out.
This is size 4,
Cushion 71.5 x 55 x 26.5 cm (L x W x H)
Basket      61.5 x 45 x 21.5 cm (L x W x H)
Sleeping Area         40 x 25 cm (L x W)
Kindly donated by Pam & Belle.
(postage kindly paid by donor).
Starting bid of £7.00 please